Feature: Wine in the on-trade
Pub & Bar speaks to two wine bar operators to get the lowdown on some exciting bottles that should be on menus this year.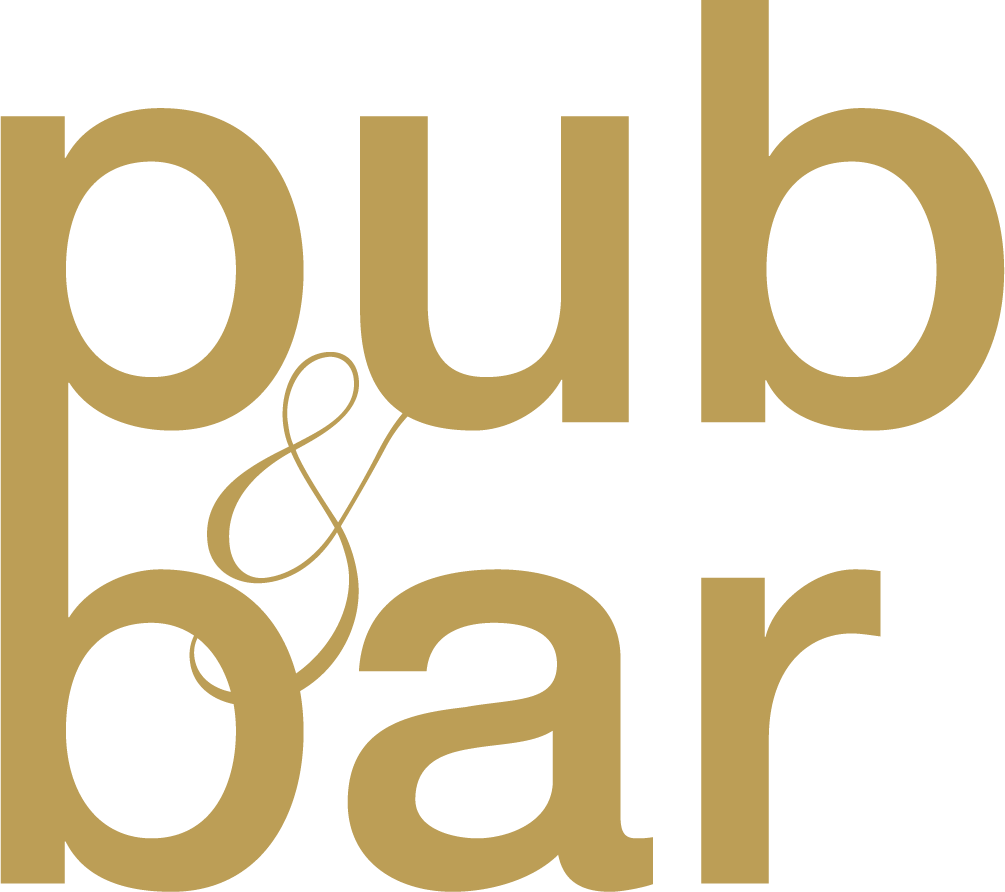 Aug 19, 2021
Let's get straight to the point. Wine is rather wonderful, isn't it? It unleashes transformational powers on our palates and can generate a certain mood or ambience immediately. Even if you're not a regular wine drinker, there's no denying that this liquid can be enjoyed in the right moment by both connoisseurs and newcomers alike.
On-trade guests often settle for a house bottle because it's perceived as reliable and good value for money. So why not reinvigorate this option for them with a lesser-known list, or with wines from regions they may not be familiar with? Good recommendations spread like wildfire, and well-engineered wine menus could have the potential to alter national buying habits. 
This approach should at least be maintained on a low heat for pubs and bars, as no variety of grape or region can ever 100% guarantee predictable levels of supply – especially with weather systems becoming increasingly symptomatic of climate change. 
For example, Marlborough Sauvignon Blanc is a flagship wine that's a firm favourite with the on-trade and its customers. However, the UK wine trade was facing a potential crisis when it became apparent that Marlborough's 2021 vintage was going to have incredibly small yields. To make matters worse, such was the popularity of the previous vintage that there was nothing left from 2020. 
Lanchester Wines' director of sales Mark Roberts recalls how the business needed to work fast to secure an alternative supply from South Africa (with a new wine Moloko Bay), which replicated the characteristics of Marlborough Sauvignon Blanc without replacing it.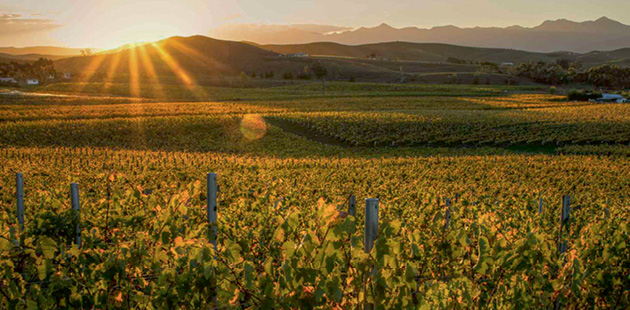 Marlborough Wine vineyard from Lanchester Wines​
"We first realised we were facing a potential shortage in November 2020 when the frosts hit, though I didn't think the problem would be this big, with a complete lack of availability," Roberts says. "We have had a good relationship with New Zealand for a long time and none of my contacts there could find wine available in bulk that wasn't astronomically priced. Some of the bigger wine companies paid in advance for grapes when they were just budding, because they knew their own estate production was going to be too low to supply their own brands. Those branded wines that are bottled in New Zealand are going to shoot up in price, unfortunately, because the producers have no choice."
Roberts turned to South Africa for assistance, sending bottles of Unity's flagship wine there for analysis in January so that wineries there could try and match it.
"It was a slow process due to Covid 19," he remembers. "But several samples later, we got to the blend that I wanted, so there's been a lot of work done at both ends to get it right."
The urgent search by suppliers and producers to replicate specific flavour profiles of popular varieties shows just how fragile a product wine actually is, and why there always needs to be some level of creative thinking around how to put together a dynamic menu that can react to shortages.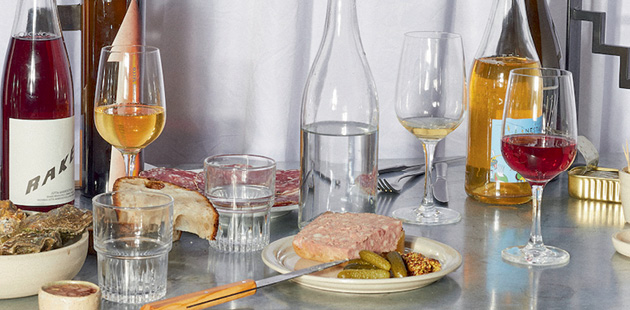 Wine and food at Bar Crispin 
At the bar
Pub & Bar recently caught up with two people in the know who can help breathe life into dusty cellars and suggest alternative wines to regular favourites: Alex Price, general manager and sommelier at Bar Crispin and Ben McVeigh, co-founder and sommelier Peckham Cellars.
Bar Crispin is a new, natural wine bar and eatery which recently opened on Kingly Street, Soho, while Peckham Cellars is a south London wine bar and neighbourhood restaurant that opened in late 2019 and was awarded a Michelin Bib Gourmand in its first year of trading during lockdown. McVeigh's team recently launched the Club Del Vino wine club, delivering bottles nationwide. 
Thanks for speaking to us, folks. First, what wine region and grape are you particularly excited about at the moment?
AP: For me it's the Savoie. I'm a sucker for alpine wine and can't get enough of Altesse. There has been a surge in popularity for wines from the Savoie in the past few years as more young and exciting producers emerge from the region. Its charm stems from the unique microclimate where the climate is continental, but with alpine and Mediterranean influences. 
Grapes grow among figs, olives, apricots, and almonds and the biodiversity is vast. The late Savoie icon, Dominique Belluard, paved the way for a whole host of producers who are doing incredible things with indigenous varietals that grow on the steep slopes. Damien Bastien, who worked with Jura legend Ganaevat, produced a wonderful skin contact Chasselas called 'Ca Boit Libre Moitie Moitie' that just sings. It's one of those moreish wines that disappears far too quickly!
BM: I'm pretty obsessed with Galicia and both the red and white wines coming out of there at the moment. I think it's a very exciting time for the region, which is slowly gaining more attention as the wines earn praise and are starting to make their mark. The vines are grown on dramatic, almost impossibly steep-looking terraces that produce really vibrant wines with lots of personality.
The reds are generally from a grape variety called Mencia – it's usually a light red which is floral with soft red fruits. Try As Xaras from Fedellos do Couto, which has light red fruits with a juicy texture, all wrapped by a lovely and refreshing acidity. 
The whites grapes are more varied and quite often blended from the likes of Godello,Treixadura, and Albariño to name a few. They are generally super-fresh, with a saline edge to them that makes them great wines to pair with food.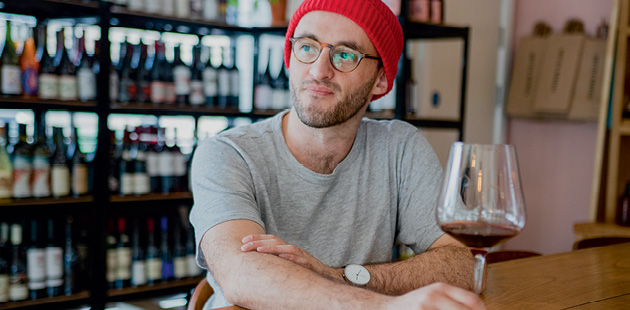 Ben McVeigh of Peckham Cellars
 
What's the most adventurous bottle on your list at the moment?
AP: Biodynamic Corsican producer Domaine U Stiliccionu has created an incredible wine made from local variety Sciaccarello. The levels of complexity that this humble wine has are incredible. It's bursting with ripe strawberries, wild herbs, flowers, citrus whilst having a razor-sharp acidity. A wine that really shows the unique terroir! It's best enjoyed on a hot day, whacked in an ice bucket, and served chilled.
BM: For something adventurous, get off the beaten track with one of our Slovenian wines – the skin contact Burja Bela, from the Vipava Valley. It's got light skin contact and is super-versatile to pair with food. But try it with a chicken biryani; the fruit notes in the dish work perfectly with this wine.
How long would you recommend a list be for a venue that's not a specialist wine bar?
AP: A well-thought-out choice of perhaps 10 whites and 10 reds that cover a range of styles and palates can often be a good starting point. Having a wide selection by the glass also really helps to educate both the staff and the customer as it allows people to try and form their own opinions plus it's always fun to drink your way around the list!
BM: This mainly depends on if you have someone on the team who is willing to engage in and sell the list, among other factors. But I'd say 10 whites, 10 reds, plus some sparkling rosé and orange – you can get a lot of diversity and interest in there. At Peckham Cellars we aim to have about 150 available by the bottle – but that's probably too many and can be difficult to manage (never enough fridge space!) We generally have about 18-20 wines open by the glass, so there are always lots to explore. 
CONTACTS
Bidfood bidfood.co.uk
Lanchester Wines lanchesterwines.co.uk
You may also be interested in…