Chickpea Group operator profile
With five sites opened in three years, Wiltshire's Chickpea Group is showing how the next generation's passion for pub operations is alive and well.
Words: Tristan O'Hana - Photography: Ed Schofield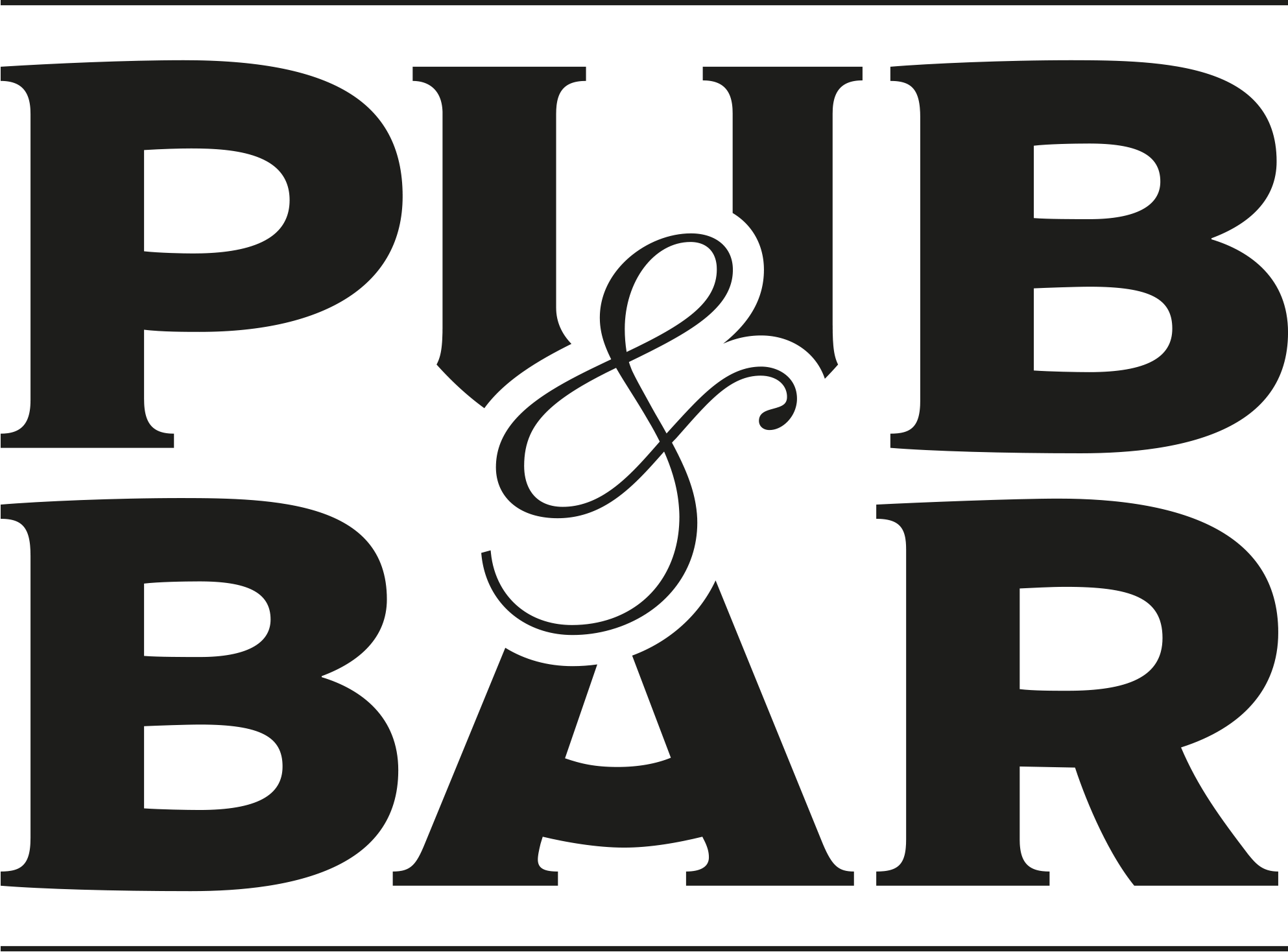 May 11, 2023
Last month, Pub & Bar ran a story online about a new general manager who had been rewarded for their hard work and progress by being promoted to the GM role at a site they could now call their own. A nice little story giving well deserved recognition to a diligent individual – all good, right?
Well, it just so happened that the person in question was of quite a young age to be taking on their own site as GM, so we led with that angle, highlighting how impressive it was for someone so young to be climbing the ranks so fast. While we meant for that to be a good thing, the internet of course paved the way for a couple of ruffled folk to criticise the inclusion of the age, suggesting we had overshadowed the accomplishment of the individual by doing so. In which case, for the sake of clarity and saving time, can I say right now that the three founders of Chickpea Group, the Wiltshire-based pub and restaurant operator, are young. And what they have accomplished so far is impressive, not just because of the quality of the pubs in the estate, but also because of how young they are. I make no apology for such a take and I'm sure they won't mind it either. OK? Everyone happy with that?
"The thing about being young is that people's expectations are generally quite low," says Ethan Davids, 29, who co-founded the group with his sister Jordan (27) and friend Tommy Tullis (29). "When we looked around this site [The Queen's Head, Broad Chalke] to see if we wanted to take it over, locals were like: 'Them?! They're kids!' It's annoying, but from then on to exceed expectations isn't that difficult."
And exceed expectations they have. For Chickpea only started three years ago, when the trio were in their mid-20s. Ethan and Tommy were working jobs they weren't enjoying, so, after a few inebriated conversations, decided to give running pubs a go. Jordan, who had not long returned from travelling in South America, decided to join them and they took on the Bell & Crown in Zeals, which, as it happens, was recently named Wiltshire Pub & Bar of the Year.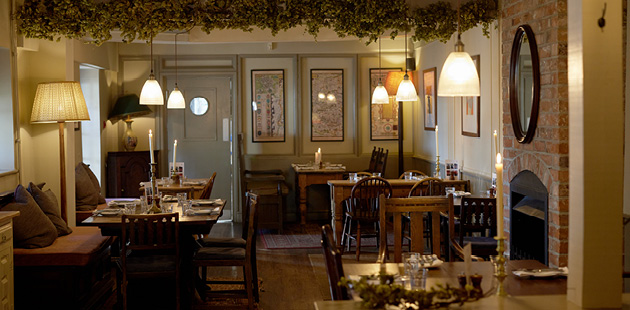 Inside The Grosvenor Arms in Hindon
Fast forward three years and the Chickpea Group is made up of five outstanding 'country boozers' (as they like to call them) and one sourdough pizza shop called nole. The latter was born out of lockdown and regularly appears via pop-ups at the group's pubs. From an outside perspective, or at least this writer's outside perspective, Chickpea has pretty much nailed how to run a modern on-trade operation within traditional/old pubs. It's not an easy trick to pull off, but a visit to any of their sites delivers an experience made up of an explorative yet reliable menu, a quality mix of unique and expected drinks, and attentive but relaxed hospitality, all set within buildings and atmospheres that deliver pangs of pub nostalgia alongside the contemporary touches of youth.
"We're about the right music, lighting and temperature," says Tommy, as Bon Iver's Holocene gently plays through The Queen's Head speakers. "Our pubs are always really dimly lit with candles, with modern artwork in old frames and vice versa. Everything we do is quite informal and slightly brash. Things like having 'pub bangers' written on the menu, rather than 'classics', but those classic dishes are still there. We like to work with contrasts and oxymorons everywhere. It's similar to us and the pubs themselves, I guess, where youth meets age."
Old habits die young
Youth meets age is right and, as Tommy says, looking at any of the Chickpea menus will give you an idea of the more youthful, contemporary touches sitting side-by-side with old-school pub grub mainstays. There's a shot of negroni listed on the same page as food, for example. There's a scotch egg, but it comes with mustard aioli. The cheeseburger in 'pub bangers' features above a grilled aubergine and courgette with baba ghanoush and a confit tomato salad. It's refreshing to see countryside pubs have a little bit of a city influence, but as the trio will testify, at the beginning it wasn't to everyone's liking.
"There has been some friction in some of the pubs, where we weren't accepted straight away," says Tommy. "That was maybe until when Ethan barred the head of the parish council."
"He was rude and complained about everything," Ethan adds, after the group's laughter fades. "But once he was barred, everyone took the place more seriously from that point on."
From the brief time I spent with the Chickpea founders, it became quite clear that Ethan, as managing director, is the main voice of the group. Jordan is operations director, while Tommy is brand and marketing director. During the interview, the answers to questions often come from the unfiltered Ethan – here is an MD that evidently isn't afraid to make his presence felt in the pubs and draw clear lines on what is and isn't acceptable when it comes to customer behaviour. He talks about how one disgruntled guest managed to make a member of the team cry due to the aggression of the complaints – complaints that hinged on a soup spoon arriving with the soup, as opposed to being ready and waiting on the table setting. The audacity.
"We are very fortunate that 95% of those who walk through our doors are really wonderful people," he stresses. "The other 5% aren't, so we tell them. It's liberating to be in an industry that historically has said that 'the customer is always right', but now it's not the case. There are a lot of things the industry has had to put up with for years, but now we know that doesn't work – the dynamic between us and the guest is a reciprocal relationship. We empower our staff as professionals, so they should be treated as such."
It is typical Chickpea contrast that such a strong opinion on a serious topic can quickly turn into a jokey anecdote.
"We just had beef this week about birthday cakes," Ethan continues. "For some reason, people think they can go to a restaurant and bring their own food. You know what? We're done with it. We serve puddings and we employ pastry chefs to make them. So, we started charging 'cakeage'. If you bring your own cake, you will pay £3 per person who eats that cake. Last week, it fully booted off with a guest, who didn't come in the end. She emailed and said she would write to her local paper about it, so I replied and Ccd the local paper in my response… just to save her the trouble."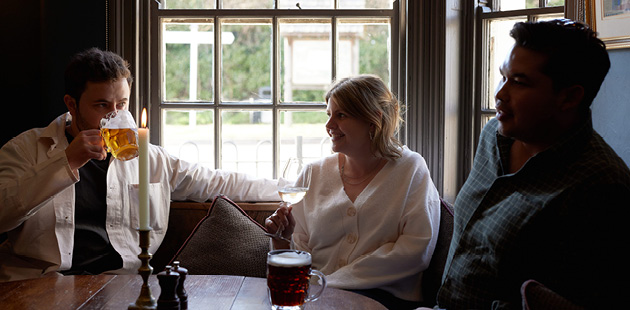 The three founders at the Bell & Crown
Chickpeas in a pod
When I arrived at The Queen's Head, the pub was empty, with the team quietly preparing for a Wednesday lunch service. Despite this, a waitress carrying cutlery acknowledged me within seconds of walking into the room, something which I am told is no accident.
"We've got a three-second rule," explains Jordan. "Three seconds within walking through the door, you need to be acknowledged."
I put this training to the test later that day when stopping at the Bell & Crown and, once again, I am greeted with a smile and a "hello" shortly after walking through the door, despite the team member in question already serving another customer.
Sometimes, it's the simple things that can make such a difference. What's key to executing such service mantras across a group of pubs is creating a business culture that everyone can get on board with – something that Chickpea seems to have achieved so far.
"The best thing about all of this is the people we get to work with all of the time," says Jordan. "We're very close with everyone who works in the pubs and it's nice to have those relationships. If it wasn't like that, it would be a different experience. It makes people want to work with us, as they buy into our brand."
Coincidentally enough, as these points are made, a group of Chickpea employees from another pub arrive for lunch at their sister site. Yes, the 50% discount that all employees receive on the bill will play a part, but it's obvious that most team members within the group are familiar with the entire portfolio.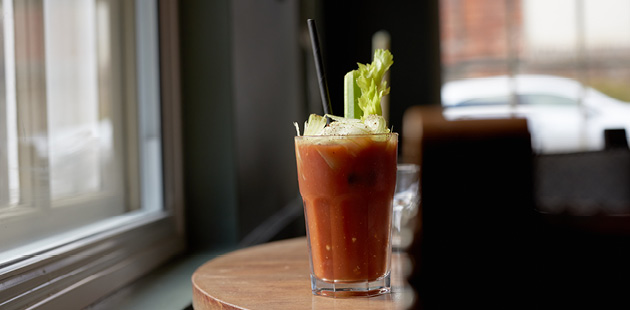 A Chickpea Bloody Mary
"We like getting everyone together, as we like each team to see how the other pubs work," adds Jordan. "The last three years have been interesting, but we're getting there now. Lots of the teams we have in place have been with us since the beginning and they're the ones who make the pubs what they are."
"Hospitality is great," adds Ethan. "It is one of the only industries where you can create something so instantly enjoyed by people. You look after people by feeding them and serving them drinks, and you see the reaction on their faces – there is no better feeling than walking into a vibey, buzzing pub and knowing you've had something to do with that. While some of the industry is bleak at the moment, there has never been so few barriers to entering this market."
As well as the Bell & Crown and The Queen's Head, Chickpea operates leases at The Grosvenor Arms in Hindon, The Pembroke Arms in Wilton and The Dog and Gun in Netheravon. However, by the time this article lands around the UK, the group may well have secured their first freehold through the purchase of The Queen's Head. For a trio who had no experience in running hospitality businesses, the speed at which they have got to this position – and, crucially, the fact that each pub is still of a high quality – is admirable. Now, thanks to their hard work and success, they're able to invest in their first freehold. Is that the thinking for any future sites? Or perhaps the group will have 10 pubs, freehold or otherwise, in three years' time? Is there a plan?
"I am always looking at new pubs," concludes Ethan. "I just love it. What is the exit? People always ask that. We don't know and it's not something we think about. If it became about something we would sell, then the obvious plan would be to get as many freeholds as we can, as then it's more valuable. But, if we were to sell, what would we do with ourselves? This is fun."
You may also be interested in…