Little & Large Pub Company operator profile
After winning the top accolade at the 2023 National Pub & Bar Awards, Tristan O'Hana sits down with Manu Bhatt and Richard Brown, owners of the Little & Large Pub Company, to talk more about their pioneering business.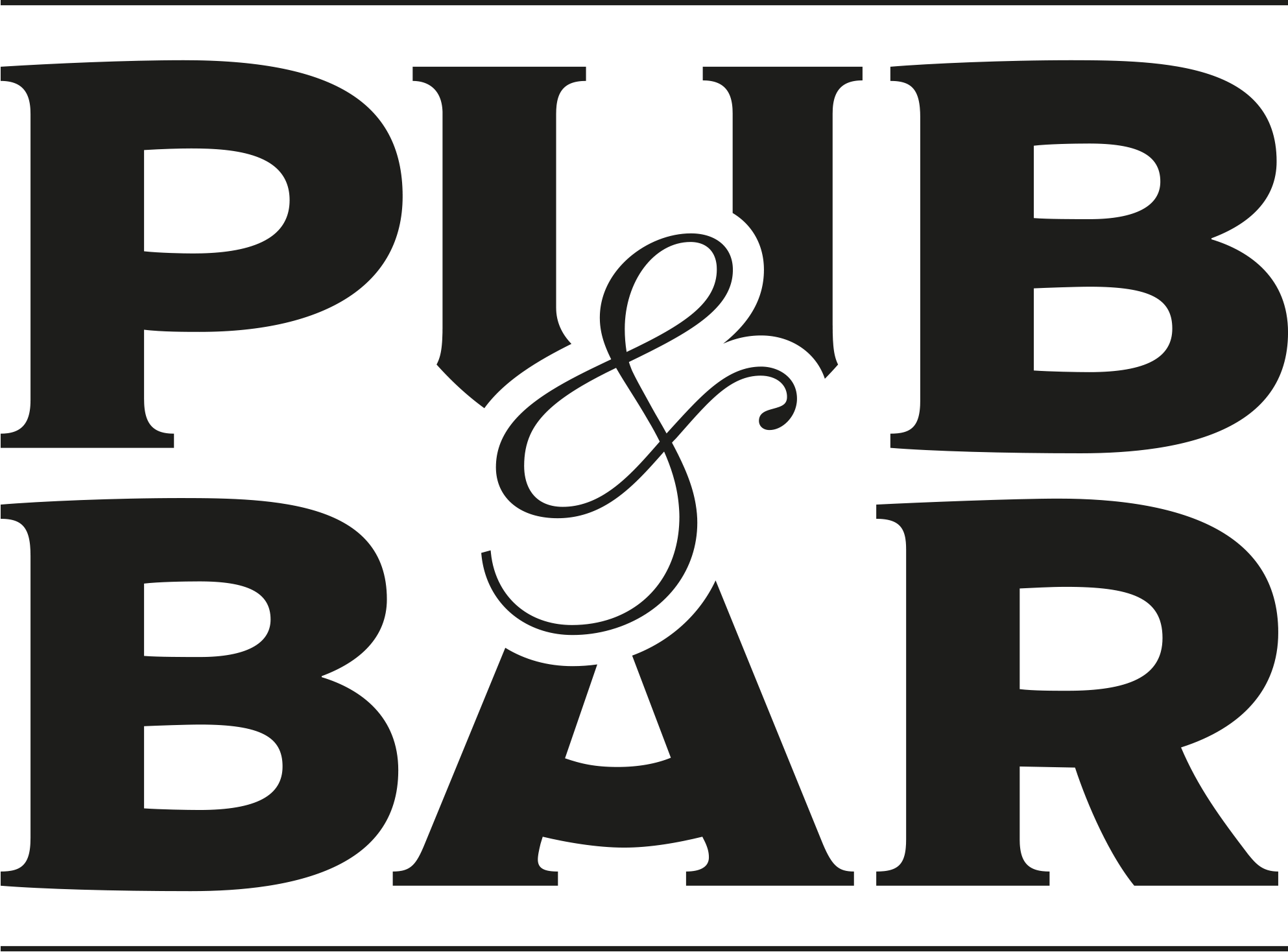 Sep 5, 2023
The Running Horses in Mickleham, Surrey, was named National Pub & Bar of the Year back in June, catapulting Manu Bhatt and Richard Brown's countryside business into the limelight.
Its glorious location certainly doesn't hinder the success of the Brakspear-owned pub, with many visitors topping up the local trade as they make their way around the footpaths and viewpoints of the Surrey Hills. But, of course, location alone doesn't get you named best in the UK. The detail, style, food, drink and team that Bhatt and Brown have put together at The Running Horses all added up to a near flawless experience during the judging process of the awards – it is quite simply a beautiful operation to behold from all angles. Two months on from their historic win, Pub & Bar sat down with the duo to talk about their individual background, obsession with hospitality and why they think their operation was named the best of the best.
P&B: As well as The Running Horses, you run The Queen's Head in Dorking and The Talbot in south east London – where does the name Little & Large Pub Company come from?
MB: Little & Large began when I first started the business with Adam Simmonds. He was little, I was large. But now with Rich, I guess it has switched! The name comes from how we see running pubs – it's the little things that make large differences.
P&B: The two of you met when working in hotels in Manchester. Do you think hotel operations affected how you oversee pubs?
MB: Absolutely, because in hotels you were taught that you do everything for customers. I think things have changed now, but back then you were taught that the customer is God. You have to make sure that they are happy and you do anything to make that happen. The brands we worked for, like Hilton, they were very top class, where standards and attention to detail matter a lot.
RB: It's all about that attention to detail in everything we do. It's not just a case of get a glass, cutlery and a napkin on a table – it's actually what glass and why are we using that one? Why have we chosen that particular supplier to get our cutlery from? Why has Manu shopped around all of the different antique markets to find the right item? I remember him bringing this god awful looking mirror to The Talbot with dogs on the front and questioned where the hell it was going. It was awful. But, honestly, once it was placed, it made sense – it's phenomenal. I just trust him 100% with those detailed additions.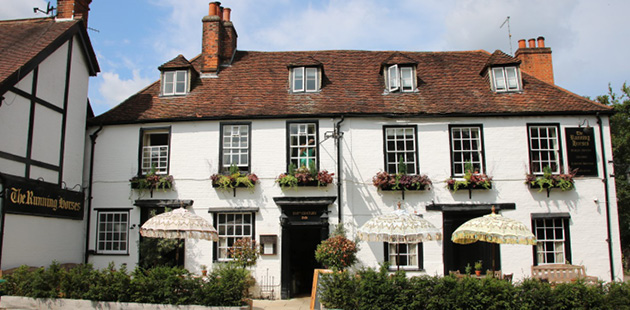 The Running Horses is located in the Surrey village of Mickleham
P&B: While the two of you conduct yourselves very differently, there does seem to be a complementary relationship going on – is that reflected in the running of the business?
RB: The other day, Manu said to me: 'Richard, you fly up here', nodding to my energy and way of working. I don't necessarily agree with that, but I definitely try and make things happen very quickly. Whereas Manu will sit back and look, and then say: 'Right, this is what we're going to do.'
MB: Richard can make things happen. I take time, you know, I need to make sure it's perfect. Richard flies at 100 miles an hour, but I am much slower. I think you need that mix sometimes in a fast-paced business. I think it works. Rich just talks about hospitality 24 hours a day. We also have Robin Freeman, who is currently based at The Talbot, who has a huge pedigree. Going forward, he will look after all the kitchens, Richard will concentrate on the operations, and for me it will be design and the financial side. I think now we have got the perfect team.
P&B: Why do you think The Running Horses was named National Pub & Bar of the Year?
MB: Our pubs have personality and feel outside of the box. It's friendly, it has got the right setting, it is warm and has a great community feel to it. And we are also an innovative pub business, we are always doing something and we genuinely want to be the best. We don't compromise on anything. We believe in quality rather than quantity. That's the only thing we know – I don't know why we'd do anything else.
RB: I think it was also to do with our people, as we've got a great team and it's really refreshing when others come to us and acknowledge that. Sometimes we only see the little things that are incorrect or the things that are out of place, but when you do hear from guests that they were really well looked after, it means a lot. This is the way we're guiding our teams and this is what we want them to do and it's great to hear that they do deliver that. Then we win this very prestigious award because the people that came were so well looked after – I think it's a real testament to the team.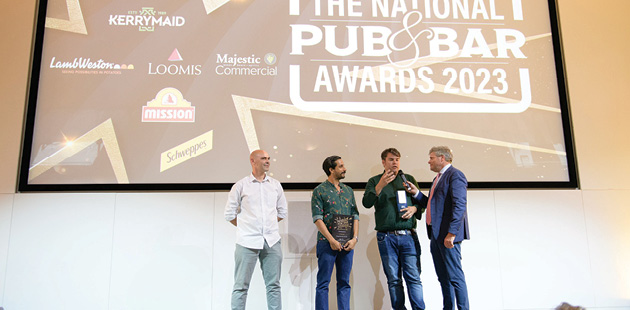 The team picks up the National Pub & Bar of the Year award
P&B: How was business after the news got out about your win?
MB: We opened a new space just as we won the award, so the two things combined helped massively. And we have seen there's more people coming through the door. The customers mention it too – 'You won pub of the year!' they say. Plus the local community all know about it and they're also really proud.
RB: We put it on the local WhatsApp group, which is a community of around 270 people. We wrote on there and said thank you, as it's about their support as much as anything else. But then they started posting all these articles and newspaper clippings in there!
MB: The main thing is to be recognised, because sometimes, you know, you work hard and that isn't always noticed.
P&B: You mention your fantastic team – how hard is it to recruit decent people in countryside locations?
RB: I think anywhere now, especially with the state of the industry, finding the right people and keeping them at the right level is tough.
MB: But we lead by example. We talk to them about hospitality, we talk about guests, the way we interact with them. I think our teams see that and it has a knock-on effect – that detail, that obsession. Our turnover of key people is low, but, saying that, I think we can do a lot better still. How can we make sure that our team perform, how can they have a better work/life balance, how can we help with self-development and also what tools can we give to them to make the job easier. It's about how we recognise and how we reward.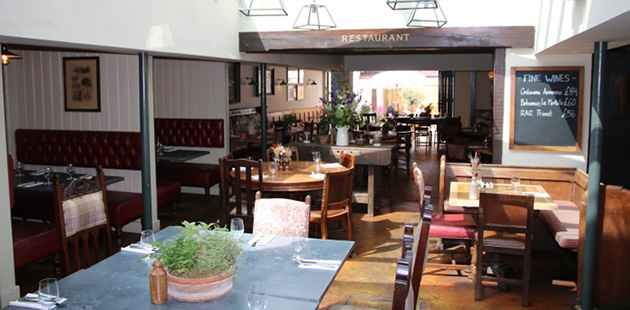 Inside The Running Horses - a view of the dining area
P&B: Rumour has it you're taking on a fourth site. Will there be more after that?
MB: Pub number four is definitely happening – The Leicester Arms in Penshurst, Kent. It has bedrooms and beautiful views. We'll be in this month and should be ready for Christmas. In terms of more? I do get that itch – I get bored.
RB: We always said that once we get to five sites, that's when you really are a completely different business. You will start looking at things that would have taken two seconds previously, but now need bigger conversations. We are having those big conversations now. Growing the empire is very different. I must admit, we were looking at two sites at the same time, and both of them are exciting projects, but we don't want to lose control of what we do.
P&B: Any other thoughts you'd like to share with Pub & Bar readers?
RB: I think the industry needs to be supporting each other a lot more. It's nice to see it happen in London and other cities. But, take Dorking for example. Other operators should want to work together and support each other. We've just lost the pub down the road from The Talbot – The Fat Walrus, a great place. And it's terrible. But, you know, when we found out it was only the second or third time we've spoken to this operator who is literally a stone's throw away. What could we have done to support each other? Where could we have helped with bits and pieces? There needs to be more of that.
MB: I think it's sometimes very difficult to remember to help, because everybody's doing their own thing and sometimes you don't want to step on toes. But, if somebody needs some stuff, you know, if they need to borrow something, then we'll always try our best to help out.
RB: In this industry, if we can't be hospitable to each other, how can we expect to be hospitable to our guests?
You may also be interested in…